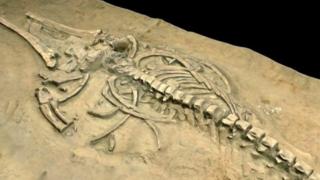 Massive whale graveyard explained
Scientists think they can now explain a massive graveyard of whale fossils discovered in Chile.
The fossil remains are thought to have been there for more than five million years.
It's now thought the creatures died after eating toxic algae, then got washed up onto the flat sands.
The report, published in a Royal Society journal, says it's likely there were four different groups of whales that ended up there over time.
Watch more Newsround videos