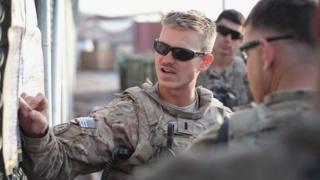 Getty Images
US President Barack Obama says he is now making plans to withdraw all American forces from Afghanistan by the end of 2014.
Most foreign forces were expected to leave this year - but there was a plan to keep a small number of US soldiers in the country to keep the peace and continue working with local troops.
President Obama wants Afghan president Hamid Karzai to sign a security agreement to give American soldiers legal protection, but Karzai won't sign that deal.
Foreign troops have been in the country since 2001, when a group called the Taliban were overthrown from power.
Britain's Prime Minister David Cameron announced in 2012 that he would bring the majority of British servicemen and women home by the end of 2014.
Read more: The war in Afghanistan