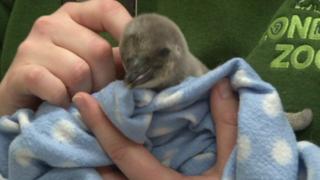 Watch: Zoo's first penguin of the year born early
London Zoo's newest arrival is already proving to be very demanding!
The two-week old Humboldt penguin is being hand-reared by zookeepers and isn't shy about letting them know when he's hungry.
The little chick is still covered in fluffy grey hair and squawking loudly to tell everyone it's feeding time.
Due to the unusual weather this winter the chick hatched out of breeding season.
Zookeeper Vicky Fyson has taken on the role of 'mummy penguin' to make sure he receives all the care he needs.
Vicky said: "We were surprised to see an egg laid so early in the year, as it's not yet breeding season and this cold weather isn't ideal for such a young chick."
"We've been hand-rearing it in our special incubation room at penguin beach, where he has his own cuddly toy penguin to snuggle up to.
"He's a noisy and quite demanding chick and definitely makes sure we know its feeding time, squeaking loudly at us for fish - but the best noise is the satisfied squeaks when its tummy is full!"
Watch more Newsround videos