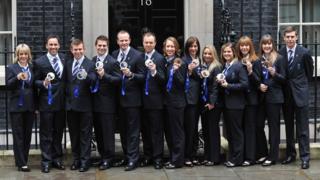 Watch: Team GB medal winners back in UK
It's been a long, long time since Team GB can say they did this well at the Winter Olympics.
They won medals in four different events at Sochi 2014, matched only by the team in 1924.
Now they've landed back in the UK. The medallists have even been to meet the Prime Minister at Downing Street.
Check out the video to see what Lizzy, David, Eve and Jenny had to say now they're back home.
Watch more Newsround videos