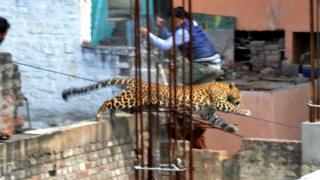 AFP/Getty
Wildlife experts are trying to capture and tranquilise a leopard on the loose in India.
Schools and colleges are shut, and locals have been told to stay safe in the city of Meerut.
The leopard was first spotted on Sunday in a warehouse and was later seen entering an empty ward of an army hospital, before it escaped through a hole in the wall.
Policemen and wildlife experts are now working together to help capture the animal.
"We have closed schools and colleges in the town because we are unable to locate the leopard and do not want to take any chances. This is only a precautionary measure," district magistrate Pankaj Yadav said.
"We are yet to locate the leopard. We have got calls from some areas but are still unable to trace it's exact location," district forest officer Sushant Kumar said.
Experts say there are roughly 10,000 leopards in India. Tigers and other big cats have been known to stray into areas where humans live.
Conservationists have warned that events like this may become more common as humans move into animal habitats in some countries.