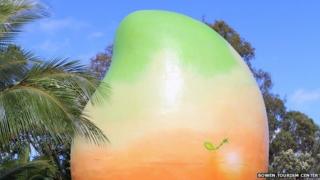 BOWEN TOURISM CENTER
The theft of a giant mango hit headlines all over the world this week, but it turns out it was all a BIG stunt!
The seven-tonne fruit is made of fibreglass and usually found standing in Bowen, northern Australia.
When it could no longer be seen towering over the town, people said it had been stolen...
But others got suspicious when they heard police weren't investigating.
Then a local radio station took a call from listener who said the mango had been borrowed by a chicken fast-food restaurant chain.
The caller said the fruit was lying on its side near to the Bowen Tourism Center and it had been covered in cloths.
Cheeky!
The fast-food chain in question said they will soon reveal why they did the stunt, and the mango will be put back in its rightful place.