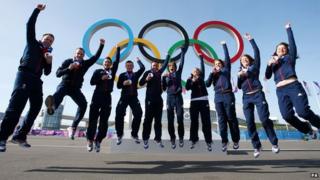 PA
The Sochi 2014 Winter Olympics - with all it's medals, jumps and speedy skating - have now drawn to a close.
But did the Games inspire you? Perhaps it made you want to try a new sport or get better at one that you already take part in?
Or maybe the hard work and determination of the athletes has inspired you take up a different sport or hobby?
We want to hear from you, so what are you waiting for? Send us your comments!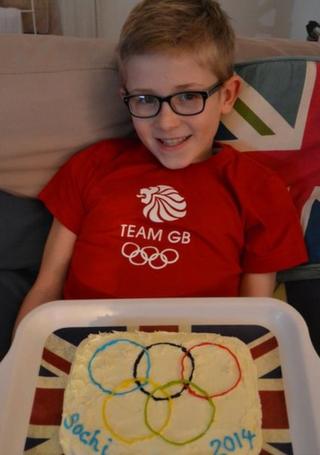 Other
Your comments
The curling inspired me because I was never interested in it before we won a medal for both the men's and woman's. It was so great my school were going on about it all week on my school website!
Molly, Rickmansworth, England
I got inspired to do curling. I keep asking my mum if I can go to a curling club.
Gregor, Reading, England
Before the winter Olympics started I was doing ice skating but I didn't think I wanted to be a figure skater, but after watching the games I really want to become a figure skater now.
Rhea, London, England
The Winter Olympics really inspired me as now I really want to do curling and snowboarding.
Siofra, Dublin, Ireland
I was inspired by Jenny Jones because Slopestyle is a really amazing sport with all of the tricks and the slopes. Although I'm afraid of heights, I could overcome my fear and become an Olympic medallist like her.
Emily, Barton, England
The Winter Olympics really inspired us and we want to try everything! We enjoyed watching the men's curling final and were very pleased to win silver (and bronze for the women). Some of the team come from near us and we have tried curling.
Class 5/6/7 St Columba's, Annan, Scotland
Lockerbie has started a curling club which has inspired us to try it out. It is good that Lockerbie is in the news for the right reasons instead of the wrong ones. We cant wait until the next Winter Olympics. Roll on 2018!
Yazmin, Ari and Abigail, Lockerbie, Scotland
The curling inspired us because the skip of the men's team went to our school, as well as Anna Sloane.
Jack and Rhys, Lockerbie, Scotland
The Winter Olympics was really inspiring for me because of all the medals won this year shows anyone can be successful in every sport! My favourite sports are the curling and the skeleton.
Chloe, Kingswinford, England
I was inspired to go bobsleighing. My coach said I had a talent, all thanks to Sochi 2014.
Jak, Warrington, England
I find the determination of the athletes phenomenal and think if everyone strives to do their best they could make it.
Finty, Lancashire, England
We learnt about a lot of different events, and were particularly excited to watch the skeleton. We'd like to have a go at curling, figure skating, ski jumping and slope style.
Class 4, Bicester, England
The games made me want to take up snowboarding so hopefully I can try it soon.
Olivia, Northern Ireland
I liked curling and I want to try it myself, maybe one day I might be on TV trying the curling in the Winter Olympics.
Liza, Nottingham, England
I really want to start free style snowboarding now because the Olympics has really inspired me to start doing snow sports.
Erin, Manchester, England
The curling has inspired me because team GB did so well and I am proud of them. They did a great effort.
Jessica, London, England
I was extremely inspired by the curling because it is an exciting sport, It is amazing!
Grace, Manchester, England
It really got me thinking about joining in and I eventually decided on skating, however I fell over three times!!!
Hana, Bradford, England
I think that the Winter Olympics will inspire people to lead Great Britain to the top, and two weeks later there is the winter Paralympics, and I think it will really inspire disabled people to join team GB.
Abdi, Liverpool, England
We watch curling a lot on TV and my mum booked us some tickets to a curling rink in Kent. We had great fun there and we would definitely recommend going curling!
Charlie, Kent, England
The Winter Olympics has inspired me to take up figure skating.
Serena, Telford, England
From watching snowboarding slope style, I would really like to try it because it looks really fun. I would also like to have a go at Skeleton as Lizzy Yarnold inspired me to have a go.
Noah, Sevenoaks, England
I am already an ice skater, but seeing how young some of the athletes were, has pushed my dream to go to the winter Olympics further.
Lucy, Guildford, England
Yes, after watching snowboarding when Jenny won the bronze, I really wanted to start snowboarding!
Jenna, Stockton, England
The Winter Olympics have inspired me a little bit as I quite liked watching the skiing because I thought it was really amazing how they got down the course so fast and they didn't injure themselves.
Zoe, Southampton, England
The Winter Olympics have inspired me, because I was not really in to sports, but now I would like to take some up.
Joel, Masham, England
I would really like to take up snowboarding and skiing after seeing it in Sochi because I think it would be fun and interesting to perform the tricks that the Olympians can do!
Rafe, Maidenhead, England
I was really inspired by the Winter Olympics because it shows that anyone can be great at sport, and it looks so fun. I now want to one day be on the team GB skeleton team.
Maddy, London, England
I was inspired by Lizzy Yarnold to take up skeleton bobsleigh and aiming to compete at the 2022 Winter Olympics.
Cameron, Nailsea, England
I think that the games would be even MORE inspiring if ICE CLIMBING was a winter sport as I think it is interesting and I LOVE rock climbing and that could be a summer Olympic game!
Luciano, Sheffield, England