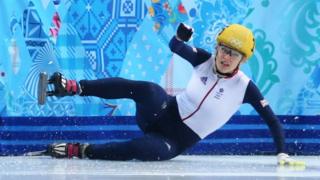 Getty Images
Elise Christie's Olympic experience ended in agony as she was penalised for a third time during the Games.
She was blamed for a collision on the final lap of the 1,000m short track speed skating semi-final.
"Never in 100 years did I expect a penalty. I'm confused and heartbroken," the 23-year-old said.
Elise had hoped to end her Olympic campaign on a positive note after being disqualified in the 500m final and not finishing her 1500m heat correctly.