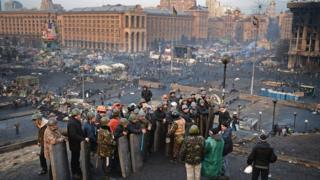 Getty Images
The President of Ukraine, Viktor Yanukovych, has announced a deal to hold an election before the end of the year to try and settle the crisis in the country.
Talks went on through the night, involving the Ukranian government, opposition leaders and European foreign ministers.
Over the past two days dozens of people have been killed, and hundreds injured.
Guide: Advice if you're upset by the news
People in Ukraine will now get the chance to vote for who should be president by the end of 2014.
Protesters have been camped out in the main square in the capital city Kiev since November.
It started because many people were upset with government decisions that were seen to make ties with Russia while moving away from links with Europe.
The recent trouble began after police tried to remove the protesters and fighting broke out.
Find out more: What's happening in Ukraine?