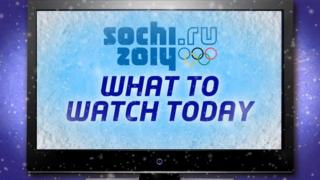 Here's Newsround's round-up of what to watch at the Winter Olympics today:
Medals to be won today: Bobsleigh (four-man), cross country skiing (men's mass start), ice hockey (men's gold).
Britons in action: John Baines, Stuart Benson, Lamin Deen, Joel Fearon, John Jackson, Benjamin Simpson, Bruce Tasker and Andrew Matthews (bobsleigh), Andrew Musgrave (cross country skiing).
Highlights include:
07:00 Cross country skiing - men's mass start. The longest distance race of any sport at the Games. Athletes start together, ski for 50km and the first across the line wins.
09:30 Bobsleigh - four-man third and fourth heats. GBR 1 pilot John Jackson is in medal contention in seventh place after the first two runs, just 0.18 seconds off bronze, while Lamin Deen's GBR 2 team are joint-18th ahead of the final two runs.
12:00 Ice hockey - men's final. One gold medal is left to be won by this point, and it may well be the most important for at least two nations. Canadians cannot consider a Winter Olympics to be a success if they have not claimed hockey gold and they are in the final against Sweden.
16:00 Closing ceremony. The last action of the Sochi Olympic Games features speeches, the lowering of the Olympic flag and a ceremonial handing-over to Pyeongchang, South Korea, which will host the next Winter Games in 2018. However, Sochi's Games are by not over - the Winter Paralympics begin on 7 March and run until 16 March, featuring a number of British medal hopefuls.