Who hasn't heard of One Direction?
Niall Horan, Zayn Malik, Liam Payne, Harry Styles and Louis Tomlinson make up one of the biggest bands on the planet.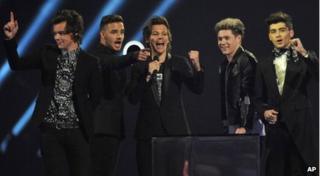 AP
At the 2014 Brits they took home the award for 'Global Success'.
The boys also bagged the British Artist Video of the Year award which was voted for by fans on Twitter during the show.
More proof of the fan power of the countless 'Directioners' and of the band's international superstardom - but what is it that makes them so successful?
Money matters
The Global Success Award is presented to the act with the highest international sales - minus UK sales - achieved during the year.
This means they have a huge following outside of their home countries - the UK and Ireland - and this isn't an easy thing to do.
They're huge in America which is an incredible boost for sales; according to Nick Gatfield, the chairman and chief executive of Sony Music Entertainment UK, One Direction represented a $50 million business by June 2012. and it's since been reported the band will hit the one billion dollar mark in 2014!
Sinead Garvan from BBC Radio 1's Newsbeat says One Direction have lots of ways to make money.
She says: "They have fans of the generation that will actually buy albums. They do extensive tours which are already sold out so that will make them a lot of money. But also merchandise, these are a band who have their own fragrances, posters - anything with One Direction on, you can buy it."
In April 2013 the band made the Sunday Times Rich List, and according to that they each had an estimated combined wealth of £25 million ($41.2m), making them the second wealthiest musicians in the UK under 30 years old (topped only by Adele).
After the release of Midnight Memories, One Direction became the first band in US Billboard 200 history to have their first three albums debut at number one.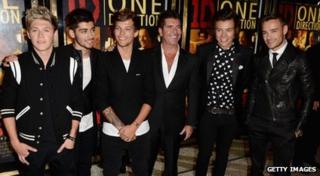 Getty Images
Superstar support
The boys famously formed after taking part in The X Factor in 2010; they were grouped together during the competition and went on to finish third.
But that didn't stop Simon Cowell - who owns part of the company behind the show - snapping them up with a record deal.
From there, they shot to superstardom; their three albums, Up All Night, Take Me Home and Midnight Memories have broken several records and topped the charts of most major markets.
Music industry critics say their success is largely down to being backed by Simon Cowell and a powerful record label, as well as using social media to stir up a huge fan base.
One 'Directioners'
One Directioners are nearly as famous as the band itself; that's the nickname given to loyal 1D fans, and in a previous interview Twitter's head of entertainment for the UK, Sunil Singhvi said: "It was the UK fans' excitement about One Direction that really got them started."
He added: "The fans' ability, via Twitter, to tell Europeans about One Direction really catapulted them there, then from Europe to America, and now it's a global phenomenon."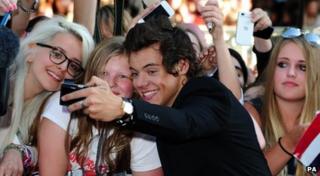 PA
The boys are keen tweeters and their management say they do all their own tweeting, using the social networking site to give behind-the-scenes glimpses of their lives.
After the 2014 Brit Awards the group posted a message saying: "Wow - we're still thinking about just how incredible 1D fans really are!"
Staying popular
Radio 1 Newsbeat's entertainment report Chi Chi Izundu says: "record sales in the UK would suggest it's on the decline (not by a huge amount) but still popular around the world."
She added: "The shelf life of an X Factor band is normally only 3 years - so they've already surpassed that."
Harry Styles famously said in an interview: "we all sat and watched the film of The Beatles arriving in America. And, to be honest, that really was like us...."
"...Stepping off the plane, the girls, the madness. It was exactly the same as when we got there - just 50 years earlier."
Speaking to Top of the Pops Magazine, the musician added: "None of us think we're in the same league as them music-wise. We'd be total fools if we did.
"Fame-wise, it's probably even bigger, but we don't stand anywhere near them in terms of music."
...a little bit of luck
And, of course, 1D's success is down to a little bit of luck.
Just think - what if one of them hadn't entered that series of the X-Factor? What if the judges hadn't noticed their potential? What if Harry had lost his voice on the day of his first audition? Well then, the biggest boyband in the UK...might never have been!