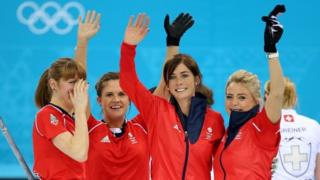 PA
Great Britain's women's curling team have won a bronze medal at the Sochi 2014 Winter Olympics.
They beat Switzerland 6-5 to take a spot on the podium.
It's a great achievement for Eve Muirhead, Anna Sloan, Vicki Adams, Claire Hamilton, Lauren Gray.
This takes the Team GB medal count to three, guaranteeing an equal record number of medals ever earned by Great Britain in the winter games.
Britain's men will play Canada in the gold medal match tomorrow - and will win either a silver or a gold.