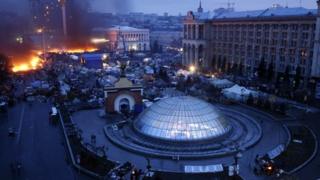 Reuters
There are reports of more fighting in the Ukraine capital of Kiev despite the country's President announcing a peace agreement.
According to reports, last night President Yanukovych promised to keep police forces from storming a protest camp in the capital's main square while peace talks went on.
However, there has since been reports of more clashes between the protesters and police.
The protests began three months ago over a decision for Ukraine not to strengthen the country's ties with the European Union.
Read more: What's happening in Ukraine?