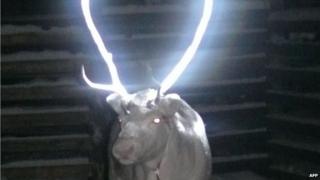 AFP
Herders in Lapland are spraying their reindeer with a special paint designed to reflect car headlights.
As many as 4,000 reindeer are involved in accidents with cars every year in Lapland, which is a region of Finland.
The Reindeer Herders Association hopes the reflective spray will help drivers see them during the dark months.
The special spray is being tested on the reindeer's fur and antlers to see if it stays on in different weather conditions.