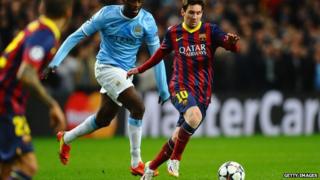 Getty Images
Manchester City were comfortably beaten 2-0 by Barcelona in the last 16 of the Champions League.
It was all too easily for the Spanish superstars, and they'll now be hot favourites to go through the next round in the second leg.
Though City were the home team, Barcelona had most of the ball for much of the game, and took the lead through a Lionel Messi penalty. Martin Demichellis was sent of for fouling the Barca forward.
And if city were struggling to get the ball off Barca with 11 men - they REALLY struggled with 10.
They managed to defend well for much of the second half, but couldn't hold on.
Defender Dani Alves made it 2-0 just before full time, finishing between goalkeeper Joe Hart's legs.
Manchester City will now have to score at least three goals when they travel to Barcelona for the second leg. Something experts are predicting is almost impossible for them.