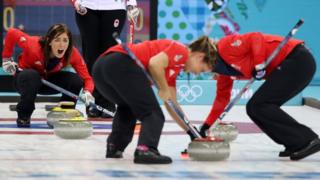 PA
Great Britain's men and women are in the semi finals of the curling at Sochi 2014.
Today's a huge day of sporting action, and it's created lots of news curling fans around the UK.
We asked if you were one of them? Were you glued to the TV watching the action? Are you spending your half term watching the drama on ice?
This chat page is now closed. Thanks for your comments. You can read some of them below.
Your Comments
I love curling. It's so exciting! A great sport to watch when you're not busy.
Clare, Essex, England
Loving the curling. Good Luck Murdoch and his team against Sweden today. Hope you win!!!
Ben, Swansea, Wales
I love to watch curling. I didn't even know it existed but I want to try it out.
Fatima, Leicester, England
I adore the curling at Sochi, It has really got me enthusiastic about the winter games. Team GB are amazing!
Freya, Haywards Heath, England
I love the curling at the Olympics, I even won a competition at school when our class went to a curling I rink. I LOVED IT !!!
Paul, Larkhall, Scotland
I do like the Curling but it was very unfortunate that the Ladies Team didn't get an chance to win a Gold Medal, but a least they have a shot at bronze!
Claire, London, England
Personally, I find curling quite confusing and slightly boring. But my brothers really enjoy watching it and if I actually understood the rules of the game I might start to like it. But I do think Britain's curling team are really good.
Hamdi, London, England
I have been watching the curling a lot. It is a good sport and looks fun. Before the winter Olympics, though, I had not heard of it!
Rebecca, Scotland
I am really enjoying the curling because it is fascinating to see what tactics the players use.
Hannah, Pinner, England
I love watching the curling because it is like bowling.
Jessica, Stevenage, England
I love the curling it is my second favourite sport, my first is skeleton.
Denise, London, England
My cousin practices curling every other weekend and I go to her games. I want to start as well.
Lydya-Rose, Essex, England
Nah!!! It looks quite boring to me, besides it is not a popular sport and not very active or enthusiastic.
Layla, Manchester, England
Curling is amazing to watch and there's nothing like it. I am addicted to BBC 2 right now!
Emma, Dublin, Ireland
I think the best part of the Winter Olympics is the taking part because it is always good to support your country's team.
Lydia, Croydon, England
I like the British curling because when they're in a game they always concentrate and work as a team. I'm always glued to the curling it's my favourite sport, I'm loving the winter Olympics at Sochi!
Alexandra, Liverpool, England
I would love to do curling because it looks really fun and it is like bowls!!
Grace, Gateshead, England