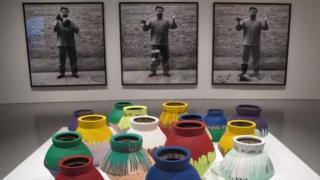 AFP/Getty Images
A Florida artist is facing criminal charges after he smashed a vase worth $1 million, or £600,000, in protest.
The vase is by a Chinese artist called Ai Weiwei, and some of his work is currently on display at the Perez Art Museum in Miami.
Maximo Caminero is a local artist and he says he dropped the vase because he was angry that the museum never showed art by locals.
Mr Ai responded to the story saying his own work is never shown in China.