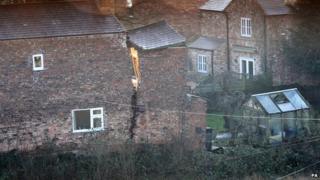 PA
Three houses had to be evacuated because of fears they could collapse, after a huge sinkhole appeared in a town in North Yorkshire.
The sinkhole, which is in a town called Ripon, is about 25 feet wide.
Police, fire crews and engineers have been at the site to keep people safe and to try prevent the buildings from collapsing.
A large crack has appeared in one of the houses nearest the sinkhole.
A North Yorkshire police spokesman said: "The affected property and two houses nearby have been evacuated and a cordon has been put in place to protect members of the public. At this stage no injuries have been reported."
There's been a spate of sinkholes in the past few weeks; residents were told to evacuate their homes in Hemel Hempstead in Hertfordshire after one appeared there, and a motorway was closed for several hours after a sinkhole opened up in the middle of it in Kent.
The British Geological Survey says the north-east of England is the most likely area of the UK for sinkholes to appear, particularly around Ripon.
The organisation says this is because the type of land in that area is soluble - which means it can dissolve over a period of time.
Guide: What is a sinkhole?