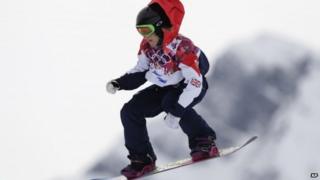 AP
She's one of Team GB's coolest athletes after she took bronze at the Sochi Winter Olympics - and Newsround is off to meet her.
The snowboard slopestyle star is fresh off-piste and back in Britain after becoming the first British athlete to take a medal at this year's event in Russia.
Jenny has spent almost 15 years as a leading pro snowboarder, but this is the first time her event has been included at an Olympic Games.
What do you want to ask her? Get in touch using the form below and we'll put the best questions to her.
Your Questions
How long does it take to get the hang of snowboarding?
Kiara, Falkirk, Scotland
Who was your toughest rival?
Joshua, Clifton, England
What advice would you give to someone who wants to compete in the Olympics
Alice, Bristol