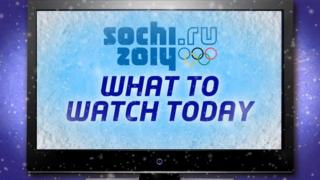 Here's Newsround's round-up of what to watch at the Winter Olympics today:
Medals to be won today: Curling (women), figure skating (women), freestyle skiing (men's ski cross, women's ski halfpipe), ice hockey (women), Nordic combined (team).
Britons in action: Rowan Cheshire and Emma Lonsdale (freestyle skiing), GB women's curling, Jenna McCorkell (figure skating).
Day in a sentence: Several of the biggest women's events at the Games come to a close
Highlights include:
13:30 Curling - women's final. Sweden triumphed over hosts Canada at Vancouver 2010 and are once again odds-on to reach the final in Sochi, having taken Scotland all the way at last year's World Championships before Eve Muirhead and her team came through to win world gold. Canada and the United States will also have a good chance of making it this far. The bronze-medal play-off begins at 08:30.
14:30 Freestyle skiing - women's halfpipe. Rowan Cheshire, 18, became the first British woman to win a halfpipe World Cup title when she triumphed in Calgary one month before the Games. American skier Maddie Bowman - an X Games champion - and Switzerland's world champion Virginie Faivre will be contenders for gold.
15:00 Figure skating - women's free skate. The final competitive action of the 2014 Olympic figure skating tournament is the women's free skate. South Korea's Yuna Kim is the favourite for Olympic gold despite missing some of the 2013-14 Grand Prix season through injury, with Japan's Mao Asada another leading candidate, while Russian 15-year-old Julia Lipnitskaia should also impress.
17:00 Ice hockey - women's final. Canada's women caused controversy in 2010 when they returned to the ice wielding champagne, beer and cigars in celebration after their victory over the US. However, the US overpowered Canada 3-2 in last year's World Championships - once again on Canadian ice, in Ottawa - to establish their credentials for Sochi 2014. First, both must reach Thursday's final, which is likely but not quite guaranteed.