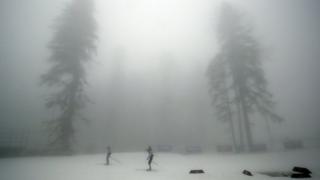 AP
Heavy fog has postponed two events at the Winter Olympics.
Both the men's snowboard cross and the men's biathlon have been moved to Tuesday.
Sochi woke up to find the Rosa Khutor Extreme Park, which is hosting the snowboard cross, covered in fog.
It was decided it would be too dangerous to run the event, and athletes wouldn't be able see the targets they shoot at in the biathlon.