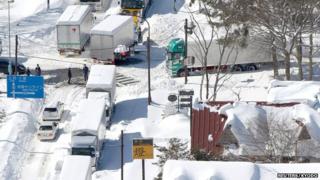 Second deadly snowstorm in Japan
A second deadly snowstorm hit parts of Japan in east Asia at the weekend.
Thousands of drivers were trapped in a traffic jam for nearly a day.
Officials set up temporary toilets on the highway and delivered food to people who were stuck.
More than a metre of snow fell in some areas and there's more to come. At least 12 people have died.
Watch more Newsround videos