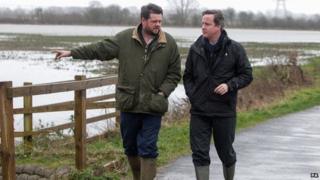 PA
Prime Minister David Cameron has warned of more floods in England and Wales, despite a break in the stormy weather.
He said: "Thankfully, it does appear that we will see less rain and wind over the next few days.
"However, after so much rain over recent weeks groundwater levels remain very high and in many places will continue to rise."
Royal Engineers from the Army are going to inspect the country's flood defences.
Read our guide to groundwater and why it isn't running away.
There are still over 150 flood warnings, including 16 severe ones - which mean there's danger to life.
Almost one million homes had their power cut off over the past week. About 15,900 are still in the dark.