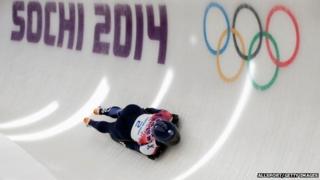 Allsport/getty images
We're just over halfway through the Sochi Winter Olympics in Russia - and we want to hear about your highlight so far!
Team GB got its first gold medal thanks to Lizzy Yarnold's domination of the skeleton event, and there was Jenny Jones' bronze in the snowboard slopestyle.
Have you been cheering on Team GB? Perhaps you've discovered a sport you'd never heard of before, such as curling or Nordic combined? Or maybe you think "snow thanks" to Sochi?!
Let us know your coolest moment so far...
Check out our guide to 5 Winter Olympic sports to watch.
This chat page is now closed. Thanks for your comments. You can read some of them below.
Your comments
My highlight of Sochi so far is when Jenny Jones won Britain's first medal! I felt very proud!!
Sophie, Cardiff, Wales
I am enjoying watching the ice skating because it is fun and energetic!
Ella, Birmingham, England
I love snowboarding because you can do lots of tricks while you are up in the air.
Emily, England
The opening ceremony was so amazing. I was especially happy when we got our first medal from Jenny Jones.
Abigail, Cambridgeshire, England
I love curling! It's so funny watching men and women mopping the floor like the school dinner ladies when it is the end of the lunch break!
Imogen, Leek, England
It has to be when Lizzy Yarnold won gold because she lives in my town!
Noah, Sevenoaks, England
My highlight is speed skating. It's amazing how they go so fast without falling down!! It takes a lot of training to do that.
Tracy, Watford, England
My highlight would be the figure skating. Even if they fell, they would carry on and that inspires me.
Fatima, Leicester, England
I like the luge because I am silly and the luge is like lying down on a snowboard - cool!!!!!!!!!!!
Lily, Harrogate, England
I was so happy when Lizzy Yarnold won the gold medal in skeleton and when I'm older I want to do skeleton.
Olivia, Northern Moor, England
My friend, my little sister and I were watching the skiing and we made a dance move called the Sochi ski and we do it all the time. It is great fun.
Emily, Scotland
My coolest moment was when Jenny Jones won Britain's first medal.
James, Fleetwood, England
My favourite sport is curling because it is adventurous. Just this morning I asked my brother what a hammer was.
John, Cheshire, England
My highlight has been the speed skating, it's amazing how fast they go without falling over!
Ashleigh, Boston, England
My favourite part was when Jenny Jones got bronze because it was very inspiring to me!
Sam, Bath, England
My favourite sport is the speed skating because I think it shows a lot of confidence to skate so fast.
Heather, Buxton, England
I never knew what curling was before... but now I want to try it myself!
Farsya, Birmingham, England
I liked seeing all the different teams come in at the beginning.
Silvia, Oxford, England
My highlight was probably the ice hockey when Russia played USA. It was exciting but USA just won on penalties after a 2-2 draw.
David, Kinross, Scotland