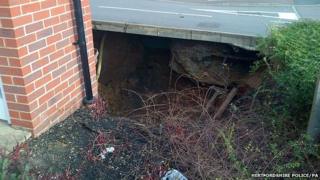 Hertfordshire Police/PA
A sinkhole has appeared near houses in a road in Hemel Hempstead, Hertfordshire.
The hole is nine metres wide and six metres deep, and was spotted on Saturday morning.
People living in 17 homes close to the site in Oatridge Gardens have been evacuated.
Council officials and engineers are working with police to check out the situation.
A Hertfordshire Police spokesperson said: "The hole, which is in a residential cul-de-sac, has mainly affected the road. However, 17 properties have been evacuated for the safety of residents in the area."