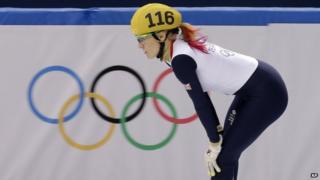 AP
British speed skater Elise Christie has been penalised for a second time at the Sochi Winter Olympics.
She's out of the 1,500m short track event because she was a centimetre wide of the official finish line in her qualifying heat.
"I didn't expect it," Elise said. "When my name didn't come up on the screen, I was just really confused."
It comes two days after she was disqualified in the 500m final after colliding with two other skaters.
She finished in silver medal position but was bumped down to eighth.
Elise has another shot at a medal when she takes part in 1,000m on Tuesday.