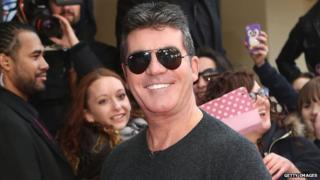 Getty Images
Congratulations to Simon Cowell, who has become a father for the first time.
He and his girlfriend Lauren Silverman welcomed their baby boy on Valentine's Day in New York.
Their son has been named Eric - after Cowell's dad.
Cowell tweeted: "Very happy to say Eric was born at 17.45pm. Healthy and handsome.
"Lauren in great shape. Thanks for all of your kind messages."
Watch Ricky's interviews with Simon Cowell and the other Britain's Got Talent judges.