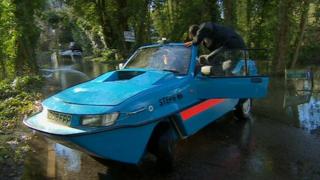 The car helping flood-hit village
A car that can travel on BOTH road and water has been doing its bit to help a flood-hit village.
Much of Wraysbury in the Thames Valley has been left covered in water - but that's no problem for an amphibious car.
Peter Kavanagh owns the car for a bit of fun, but has found it's become really useful to get around and do things like picking up shopping and inspecting damage.
He's taken the BBC's David Shukman on a tour of the village to show him how the car works and how it can help.
Watch more Newsround videos