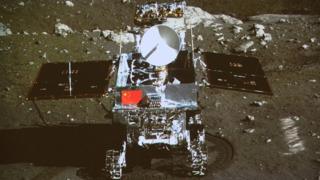 AP
There's celebrations in China as news from the moon suggests the country's rover nicknamed Jade Rabbit is working again.
The country's first lunar explorer shutdown in January because of mechanical problems.
Engineers on Earth now have communication again from the vehicle, but it still needs fixing, according to Chinese state media.
Xinhua news quoted Pei Zhaoyu, a spokesman for the moon mission, as saying: "The rover stands a chance of being saved now that it is still alive."
The rover was designed to roam the moon's surface for three months while surveying for natural resources and sending back data.
But it ran into problems as it was shutting down in preparation for the lunar night, which lasts two weeks.
It touched down on the moon's surface on December 15 2013.
Check out: more on the Jade Rabbit moon rover and the first pictures it sent back