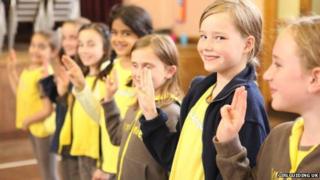 Girlguiding UK
There's been a row over changes to the vow that brownies and guides make when they sign up.
Last year Girlguiding UK said they would change the vow so members no longer have to pledge their devotion to God.
This decision upset some people, and the Church of England campaigned against the change.
Now, members who believe in God can pledge to God before they say the standard vow if they wish to do so.
Why the change?
Girlguiding UK said they needed a new vow that includes non-religious members and those who follow other faiths.
It was replaced with a new promise to "be true to myself and develop my beliefs".
It's the first time God isn't mentioned in the oath since Guides began in 1910.
Brownies and Guides currently vow to "to love my God, to serve my Queen and my country" - this has been changed too.
The new promise
I promise that I will do my best
To be true to myself and develop my beliefs
To serve the Queen and my community
To help other people
and
To keep the Guide (Brownie) law
The consultation about the vow was carried out in 2013 and involved nearly 44,000 Girlguiding UK members and non-members.
A debate was held at the Church of England General Synod that led to the new promise.
A Girlguiding spokeperson said: A Girlguiding spokesperson said: "Girlguiding remains fully committed to having one Promise for all."
"If a member chooses to do so it is permissible for her to provide the context of her own belief before making our Promise."
They added: "To be clear, this is not an alternative Promise or additional line within the Promise. Rather it is a distinct personal statement, separate to our Promise."