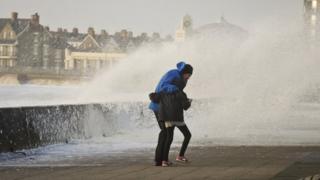 AP
The UK has been battered by extreme weather yet again. There were fierce storms, heavy rain and strong winds on Friday - two days after 'wild Wednesday'.
Flooding continues to hit several parts of the country.
How is the severe weather affecting you? Have you been forced to leave your home because of the storms or flood water?
This chat page is now closed. Thanks for your comments. You can read some of them below.
Your comments
The wind blew our fence down and hit our neighbours car
Millie, Lincolnshire, England
We haven't been hit as bad as some people I have read about, but last night my fence got knocked down and dustbins were blown everywhere. On my street, another fence and a tree got knocked down.
Hana, Chorley, England
My mum was going to get some petrol but the petrol station was closed because the roof had fallen down.
Liam, Coventry, England
Outside my house two trees have fallen down and five of my fences have fallen down.
Nathan, Essex, England
Last night it was very scary as the winds were so heavy and it felt as if the winds were shaking the house. When we woke up, we went downstairs and the fence outside was nearly completely blown over.
Isabella, Essex, England
I go to school in Staines and the Prime Minister came to visit the area.
Megan, Berkshire, England
The river is very high in town, the performance area in the Oracle is completely under water!
Gregor, Reading, England
Our stream flooded and it was taller than my dad!
Elizabeth, Suffolk, England
My school has been flooded, half of the playground and all of the quiet area, so we struggle playing.
Chanel, England
The river is almost bursting its banks and most of the road is flooded. It's raining really heavily and it's really windy too.
Daisy, Middlesbrough, England
Our class could not go swimming because the road was flooded and the traffic was miles long.
Amy, Belfast, Northern Ireland
My front gate has broken and my fence in the back garden has bent back. Also we had a power cut between 5-7pm.
Agata, Timperly, England
On Friday half the class couldn't get in and my village was almost like a river! It was kind of scary.
Hannah, England
My back garden is flooded and is slowly rising.
Jack, Bath, England
My mum has to walk to school because of flooding closing the roads.
Jessica, Worcester, England
There was a storm last night and I had to walk in it. I got soaked and the wind pushed me into mud.
Matthew, Wales
It was scary when the power went off at 6:12pm.
Holly, Wales
The electricity went out this morning. It's been raining quite a lot but I don't live near the coast so it's not too bad. I've seen places on the news that are a lot worse.
Amy, Ireland
When I went to bed last night the wind was so strong I couldn't sleep.
Jessica, England