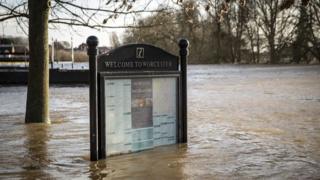 Getty Images
More than 100,000 homes are without power after another storm battered the UK last night; this time bringing 100 mph winds to parts of Wales and northern England.
Areas like Blackpool in the north of England and Aberystwyth in Wales felt the full force of the winds.
Buildings have been destroyed, trees have come down and many roads are closed.
Rail operators began closing lines and cancelling trains on Wednesday evening as the winds picked up; many services are still not running.
The Met Office said a wind gust of 112mph was recorded at Great Dun Fell, in the Pennines.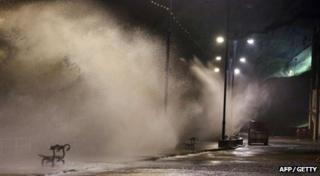 AFP/Getty
No power
The Energy Networks Association, that represents UK energy companies, said about 130,000 properties were without power.
Around 70,000 of those homes and buildings were in Wales.
Thousands of homes in the West Midlands and Cheshire were without power too, and in flood-hit areas about 3,000 buildings still had no power.
Energy companies said engineers were working through the night to restore power.
Calm after the storm?
Forecasters say Thursday will be much calmer than 'wild Wednesday' but warned there would still be rain, sleet and ice in some parts.
The Met Office still has yellow warnings in place for some parts of the country - this means 'be aware'.
The Environment Agency has issued 16 severe flood warnings, and about 400 less serious flood warnings and alerts, mostly in southern England and the Midlands.
But weather experts warn things could get bad again on Friday for many areas, as more high winds are forecast, and there is a chance of snowfall in Northern Ireland, southern Scotland and northern England.