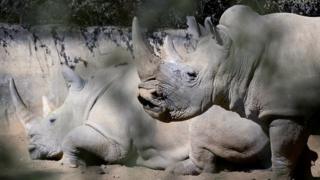 AFP
Leaders from around the world are gathering in London to discuss the illegal wildlife trade.
The aim is to draw up a global declaration that will tackle poaching.
Prince Charles and Prince William are attending the two-day meeting being held by the government.
Conservationists say poaching has reached a crisis point and tens of thousands of elephants, rhinos and tigers are being killed each year.
The situation is so bad that conservationists believe there are just 3,200 tigers left in the wild and many other species are under threat of extinction.
In South Africa, 1,004 rhinos were killed in 2013, and across the whole continent it's estimated that an elephant is killed every 15 minutes by poachers.
Thirty years ago Kenya had almost 170,000 elephants. Today only around 30,000 remain.
Much of the demand for ivory comes from Asia, where animal products, such as rhino horns, are used in medicine or are bought by the rich as trophies and some believe ivory has healing powers.
Wildlife poaching has increased in recently, and it is worth an estimated £12bn ($19bn) each year.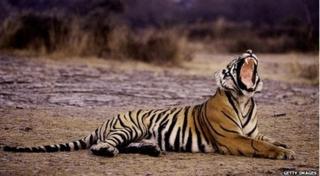 Getty Images
Officials from China and Vietnam will be attending the meeting, as well the Wildlife Conservation Society, WWF, Traffic and Conservation International.
They will be joined by representatives from African states, where most poaching takes place.
Heather Sohl, chief adviser on species for WWF-UK, said: "What we really want to see is these world leaders coming together and agreeing strong action for tackling illegal wildlife trafficking.
"We need to have strong action and for those people to take that home to their governments and make sure it is implemented at a scale and urgency that is commensurate for the problems we are seeing."