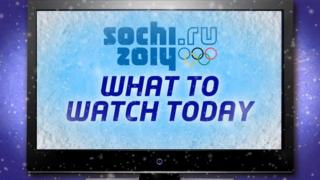 Here's Newsround's round-up of what to watch at the Winter Olympics today:
Medals to be won today: Alpine skiing (men's super combined), biathlon (women's individual), cross country skiing (men's classic), figure skating (men), freestyle skiing (women's aerials), skeleton (women).
Britons in action: Amanda Lightfoot (biathlon), Andrew Musgrave, Callum Smith and Andrew Young (cross country skiing), GB curling teams, Kristan Bromley, Dom Parsons, Shelley Rudman and Lizzy Yarnold (skeleton).
Day in a sentence: Will Lizzy Yarnold copy Amy Williams and bring home skeleton gold for Britain?
Highlights include:
06:00 Alpine skiing - men's super combined. This event has been moved forward one hour to take advantage of cooler temperatures, as warm weather threatens to play havoc with the snow underfoot for Alpine racing.
10:00 Curling - group stage, GB women v Japan (also GB men v Denmark, 15:00). Britain's men and women both won on Thursday. The men beat the United States 5-3 and are second in the standings so far.
15:00 Figure skating - men's free skate. Japan's Yuzuru Hanyu leads the field for the men's event.
15:40 Skeleton - women's third and fourth heats. At Vancouver 2010, Amy Williams rode a sled named Arthur to victory over the favourite, Canada's Mellisa Hollingsworth. This time around, Lizzy Yarnold is the clear favourite at the halfway mark: she leads American slider Noelle Pikus-Pace by 0.44 seconds with two heats remaining. World champion Shelley Rudman is 11th overnight.
Also: Ice hockey group games, ski jump (men's large hill qualifying).