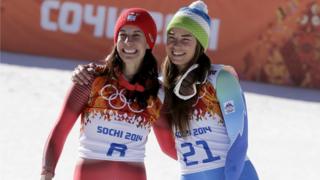 AP
For the first time ever, two athletes have shared the gold medal at the Winter Olympics.
Dominique Gisin and Tina Maze made history in the women's downhill skiing, when they finished in exactly the same time!
Britain's Chemmy Alcott finshed down in 19th in her fourth games, some way off the joint gold.
Both skiers will take home a medal. Back in 1998, two skiers shared the silver in the Super G event.