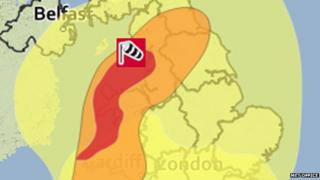 Met Office
The Met Office, who monitor the weather, have declared a red weather warning... but what does that mean?
Well, a warning is issued when the Met Office think people need to be careful because of the weather - and this time it's because of the wind.
They can range from yellow - which is the lowest warning, up to red - which is the most serious.
Red means people need to do something to stay safe from the weather, because it's very dangerous.
In fact, if a red warning is issued, it means the met office think the weather is so bad, it's a risk to people's lives.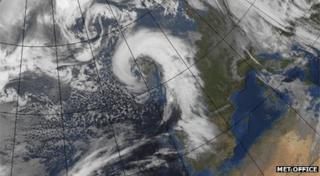 Met Office
They are very rare, and are only issued in the most extreme circumstances. Usually only once or twice a year.
They can apply to lots of different conditions like wind, rain and snow. Damage to buildings and the environment can be expected if a red warning is in place.
Everyone in areas where the weather is bad, must listen to the emergency services and not take any unnecessary risks. If it's safe to stay at home, they should do wherever possible.