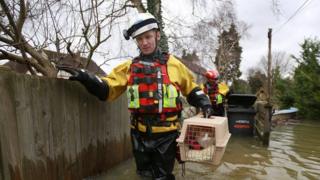 Getty Images
Animal welfare charities are working hard to rescue animals in flood hit areas.
The RSPCA have received over 1000 calls from people worried about their pets or reporting animals in trouble.
Among the pets rescued was a hibernating tortoise, a rabbit in its hutch whose owners were away and two adult sheepdog and their six puppies.
Officers have also moved horses and 30 chickens from a flooded pen and transported 40 koi carp.
Rosie Russon, from the RSPCA water rescue team, said: "The team have been going door to door offering help and advice - from pet owners concerned about how to protect their animals, to elderly people who needed assistance evacuating their homes to a place of safety."