The UK is being battered by super strong winds, and forecasters are warning that more flooding, snow and heavy rain are all expected,
The Met Office has issued a rare red warning for winds of up to 100mph in west Wales and north-west England.
A red warning means that there is a danger to life and action must be taken immediately.
There are also sixteen severe flood warnings in the UK.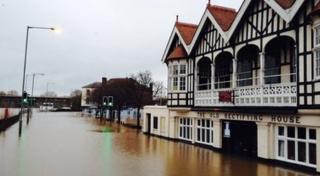 And the weather is affecting lot's of different parts of the UK. All schools in Pembrokeshire in Wales have been closed for the day.
BBC forecasters say a month's worth of rainfall is expected to fall in parts of southern England over the next few days.
The Met Office said: "Winds of this strength can cause widespread structural damage, bringing down trees and also leading to loss of power supplies.
"In addition, large waves are likely to affect some coasts. The public should take action to alter their travel arrangements during this spell of storm force winds."
Snow and ice have also hit some parts of the north and west of Northern Ireland and have been making driving conditions difficult.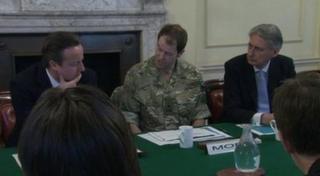 On Tuesday PM David Cameron said that money was "no object" for the flood relief effort. Meanwhile, the prime minister has chaired a meeting of Cobra in Downing Street and was told that thousands of military personnel were available at short notice to give extra support.