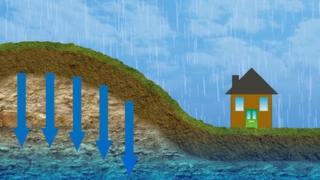 How does groundwater cause flooding?
Experts are warning that flooding in large parts of southern England and in some areas of Wales, could last for months because the groundwater is so high.
But what does this mean?
Well, Newsround asked a groundwater expert to explain it to us.
Emily Crane works for the British Geological Survey (BGS) - an organisation made up of Earth scientists such as geologists.
Emily says: "The weather forecasts suggest we still have more rain to come, which means that groundwater levels could rise further before they start to fall again. This would not be good news for people struggling with flooded houses, roads, farms and so on."
She added: "Groundwater flooding takes longer to go away than flooding from rivers. River flooding tends to pass in days or weeks, while groundwater flooding usually stays around for weeks or even months. "
Watch more Newsround videos