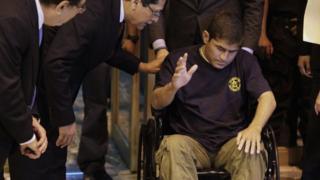 Castaway arrives back home
A castaway from El Salvador who says he spent more than a year lost in the Pacific has finally arrived home.
Jose Salvador Alvarenga was greeted by family members and officials after flying back from the US.
He was found washed up two weeks ago in the Marshall Islands.
He said he left Mexico for a trip in a boat in December 2012 with a friend who died on board.
Watch more Newsround videos