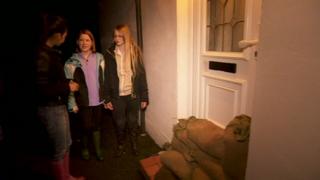 Nel meets a family fighting the floods
Forecasters say parts of southern England are in for a real downpour over the next few days - in fact, they say a month's worth of rain could fall in just a few days.
Severe flood warnings remain in place along the River Thames, and there are fears flooding could spread along the River Severn and the River Wye.
More than a thousand homes have been evacuated, mainly in the Thames Valley.
Nel met Olivia and Hannah from Wraysbury in Berkshire who are getting ready for the worst.
Watch more Newsround videos