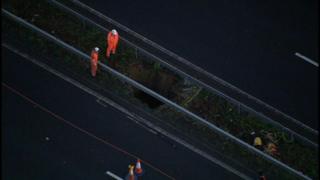 A 15 foot deep sinkhole has appeared in the middle of a motorway in Kent, causing travel chaos.
It appeared in the central reservation area of the M2 near Sittingbourne, and it measures about 16 ft (5 metres) by 6 ft (2 m).
Engineers from the Highways Agency - that looks after the UK's motorways - are repairing it, and trying to work out what caused it.
The motorway was closed in both directions while this took place.
Sarah Fey, a structural engineering expert said it might have happened because the land there us made up of chalk and limestone which can erode with lots of rain.
She said: "Chalk and limestone is alkaline and rainwater is acidic - if you put acidic water on it, it dissolves over a period of time which can happen over a millenia".
Professor Amir Allani, professor of civil engineering at Greenwich University, said recent heavy downpours and flooding could be to blame, and heavy traffic would have made the surface weak too, leading to the collapse.
Earlier this month a sinkhole measuring 30ft (9m) deep swallowed up a car at a house in Buckinghamshire.