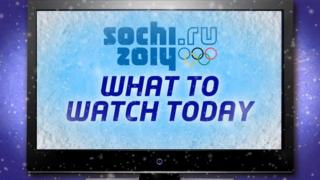 Here's Newsround's round-up of what to watch at the Winter Olympics today:
Medals up for grabs today: Alpine skiing (women's downhill), figure skating (pairs), luge (doubles), Nordic combined (normal hill), snowboard (women's halfpipe), speed skating (men's 1,000m).
Brits in action: Britons in action: Chemmy Alcott (alpine skiing), GB curling teams.
Highlights include:
Alpine skiing - women's downhill: Olympic champion Lindsey Vonn pulled out of the Sochi Games at the start of the year as her attempt to overcome a string of injuries. In Vonn's absence, this is an open contest but potentially one for her US teammate Julia Mancuso, who took bronze in the super combined.
Germany's Maria Hofl-Riesch could win her second gold of the Games, with Austrian 2010 bronze medallist Elisabeth Gorgl and Switzerland's Marianne Kaufmann-Abderhalden also recent winners. Despite a dip in form, Slovenia's Tina Maze - a sensation all last season - could feature.
Brit Chemmy Alcott is racing in her fourth Games and has finished 11th and 13th in previous Winter Olympic downhills. She has recovered from a twice-broken leg to make the start gate.
"I've had really tough preparations over the last four years with all of these injuries, but I've committed over 10,000 hours for just a couple of minutes in Sochi to prove I'm better than in Vancouver," she said.
Nordic combined - men's normal hill: As per its name, this sport combines two events: cross country skiing and ski jumping. "Normal hill" refers to the size of the ski jump, as opposed to large hill (which follows later in the Games). Watch out for Germany's Eric Frenzel, the overall World Cup series champion, who won large hill gold at Vancouver 2010.
Figure skating - pairs free skate: Today's free skate concludes a pairs contest likely to star Russians Tatiana Volosozhar and Maxim Trankov. Volosozhar switched from Ukraine after Vancouver 2010 to team up with Trankov, and the two won world gold last year. They set a world-record points total in October and will, of course, be on home ice. Germany's Aliona Savchenko and Robin Szolkowy could be their closest rivals for gold.
Also look out for: Curling group games (GB women v Canada 10:00, GB men v Switzerland 15:00), ice hockey group games.