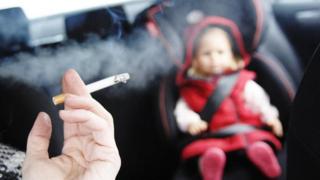 PA
Smoking in cars with children in them is likely to be made illegal in England and Wales.
MPs voted to support a ban, which means the government is now able to make it law.
It's now up to cabinet ministers to decide whether it should be introduced. But some people say it's a step too far.
The vote - passed by 376 votes to 107 - also gave the Welsh government the power to bring in a ban in Wales.
Penny Woods, chief executive of the British Lung Foundation, said: "Having campaigned on this issue for many years, we're absolutely delighted that MPs have backed the ban on smoking in cars carrying children. This could prove a great leap forward for the health of our nation's children."
But Simon Clark, director of smokers' group said smoking in cars with children was "inconsiderate", but the government shouldn't be passing laws that tell people how to behave in their own private places.
In Scotland, some MPs are looking at ways to bring in a ban this year, and in Northern Ireland ministers are going to look into the issue too.