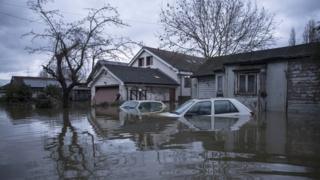 Getty Images
There are still no signs of things getting easier for flooded parts of the UK, as more wild weather has been forecast.
The Met Office has severe weather warnings in place for parts of south Wales and south-west England, warning that, "with ongoing flooding in some places, any further rain will only add to the problems".
BBC weather forecaster Laura Gilchrist said Tuesday would be a "kitchen sink day of weather" with "a bit of everything" expected.
She also said that on Wednesday some parts of the country could get hit by the strongest wind so far this winter.
There are also two warnings of snow for Tuesday - covering Scotland, northern England and Northern Ireland - and a warning of ice for Northern Ireland.
This comes after several weeks of severe weather that has left thousands of homes flooded, even more without power and has turned towns and villages into no-go areas.