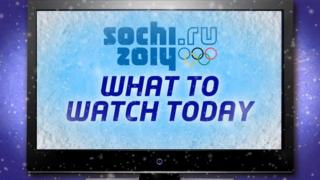 Here's Newsround's round-up of what to watch at the Winter Olympics today:
Medals up for grabs today: Biathlon (women's pursuit), cross country skiing (individual sprints), freestyle skiing (women's slopestyle), luge (women's singles), ski jumping (women), snowboard (men's halfpipe), speed skating (women's 500m).
Brits in action: Andrew Musgrave, Posy Musgrave, Callum Smith and Andrew Young (cross country skiing), GB curling teams, Stacey Kemp and David King (figure skating), Katie Summerhayes (freestyle skiing), Dom Harington and Ben Kilner (snowboard).
Highlights include:
Freestyle skiing - women's slopestyle: GB's Katie Summerhayes won silver at the last World Cup prior to the Olympic Games, marking a successful injury comeback. She has been inspired by team-mate Jenny Jones, who won snowboard slopestyle Olympic bronze on Sunday.
Cross country skiing- Individual sprints: Britain's Andrew Musgrave made the front pages of Norwegian newspapers when he won the country's national championships in January, defeating a number of top skiers from the world's leading cross country nation. He wants to reach at least the semi-finals at the Olympics.
Snowboard- Men's halfpipe: Shaun White has had a busy few years since he won this event at Vancouver 2010. He was due to compete in both the slopestyle and halfpipe events in Sochi, but made a controversial withdrawal from the former after claiming the course was "a little intimidating."
Ski jump - women: After a court battle and years of pressure, women have at last been given the chance to jump at the Games. This historic contest promises to look stunning under floodlights. Diminutive Japanese teenager Sara Takanashi will be the favourite if American world champion Sarah Hendrickson fails to recover from ligament damage sustained in the autumn.
Also look out for: Curling (group games, GB men v Germany 10:00, GB women v US 15:00), figure skating (pairs short programme), ice hockey (women's group games).