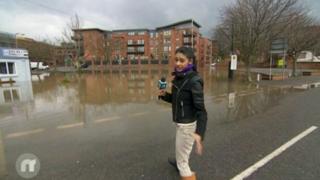 River Severn bursts its banks
Floods have hit a number of places across the UK and record water levels are putting lives in danger and homes at risk.
The Environment Agency has issued sixteen severe flood warnings.
The areas most at risk are along the River Thames, which is struggling to cope with all the heavy rain that's fallen in recent weeks.
But it's not just the South East, the country's longest river, the Severn is causing big problems in the Midlands.
Nel's been in Worcester where the city centre could be closed for a week.
Watch more Newsround videos