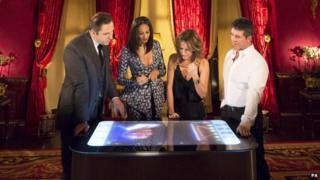 PA
The biggest talent show in the UK is back!
David Walliams, Alesha Dixon, Amanda Holden and Simon Cowell are on the hunt for the UK's top entertainment.
Previous winners have included a street dance troupe, an opera singer, a gymnastic troupe and a dancing dog.
The auditions have already begun and Newsround are heading to the show's official launch later this week.
Your questions...
What's your favourite type of talent: singing, dance, magic or comedy?
Logan, Sheffield, England
What has been your favourite Audition?
Louise, Doncaster, England
My question is, is it really hard to pick who to go through? - because I wouldn't like to have to do that!
Lauren, Shrewsbury, England
How does it feel to be at your 8th series?
Beth, Essex, England
Have you ever won a singing/talent contest or come second?
Stephanie, Skegness, England
How can you remember what acts did what when you are going through the selection process?
Paul, Scotland
To Simon, What kind of acts are you looking for in this year's show???
Jessica, Dorchester, England
What made you want to be a judge on Britain's got talent?
Courtney, Wales
What is it like and how do you feel when you decide who's going to go through and who isn't?
Amelia, Cheltenham, England
What would be the ideal winner of bgt?
Maysa, London, England
Will there be any cats on BGT this year?
Jessica, London, England