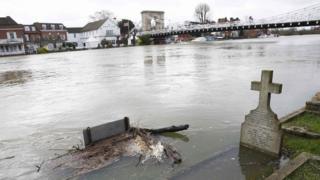 Reuters
Water in the second largest river in the UK, the river Thames, is at the highest level ever recorded.
Gauges were installed along the river in the 1980s and 1990s, and they have not recorded water levels as high as they are now.
The people who deal with flooding in the UK, say they expect it to rise even more over the next couple of days and have warned of flooding.
Areas of Somerset in the South West of England have been flooded for weeks.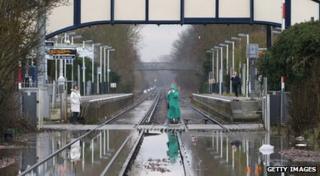 Getty Images
With more heavy rain expected over the next couple of days, people are worried that the Thames could cause flooding in parts of Surrey and Berkshire.
If the levels of the Thames, the famous river that runs through London, rise much more, thousands of homes could be at risk.
Over the last couple of days, politicians have been arguing over who is to blame for the flooding.
Some politicians have said that the Environment Agency, who look after things like flood defence, haven't done enough to prepare for the heavy rain the UK has seen this winter.
Some MPs have said that the Agency should have done more 'dredging' to stop rivers bursting their banks.
But then the Environment Agency and other experts argue that dredging wouldn't stop the flooding.