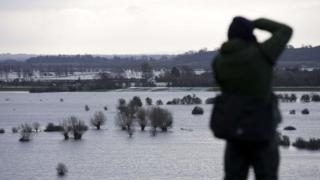 Sixteen flood warnings for England
Sixteen severe flood warnings are now in place across England, which means people may be in danger.
Part of the River Thames has reached its highest water level for more than 20 years.
Thousands of homes are under threat. Berkshire and Surrey are the worst affected.
In Shropshire and Worcestershire parts of the River Severn are at the highest level for seven years.
The Army and the Navy have been called in to help build defences to try to divert the water away from populated areas.
Weather forecasters say Monday will be the driest day of the week, but rivers could continue to rise as previous rainfall works its way downstream.
Watch more Newsround videos